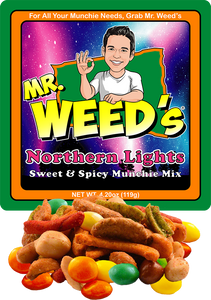 Northern Lights Munchie Mix features a delightful combination of textures and flavors. Guacamole stix, sesame stix, turmeric and candy coated chocolates gives the mixture a brilliant color making it a perfect way to enliven a sesh party or just relaxing during movie night.
*No THC or CBD
Mr. Weed's offers free USA shipping on all orders over $49. Purchased items will be delivered via USPS.
Mr. Weed's accepts returns on unused products within 15 days of delivery. We do not accept used product returns under any circumstances.